Please Note
*********
Family Care, Independent Care Reimbursement Processing
At the current time processing has not been greatly impacted however checks will only be issued once per week. While standard business turnaround is up to 30 days the Program expects to continue as stated above until circumstances change. Please note the Program has received calls about mail delivery being slower than usual to some areas.
Welcome to the website of one of the most innovative programs in the United States. Designed to assure access to obstetrical services for all Commonwealth residents, the Virginia Birth-Related Neurological Injury Compensation Program also has distinguished itself by assuring superior care for admitted children.
---
A Lifetime Of Care
Every year, small numbers of babies are born with serious birth-related neurological injuries. The Birth-Injury Program helps parents take care of these children for life. The Program covers what insurance and other programs don't — medically necessary expenses such as medical expenses, hospital expenses, rehabilitation expenses, in-home nursing care and much more. In fact, an extensive Virginia General Assembly Joint Legislative and Review Commission (JLARC) study conducted in 2002 states:
In addition to serving more birth-injured children than the tort system, the program provides benefits that exceed the medical malpractice cap for the typical child. (JLARC Review, Page 45)
Excellence in Financial Reporting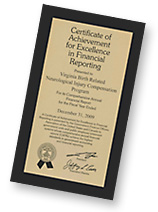 The Birth-Injury Program is a recipient of the Certificate in Excellence in Financial Reporting. This honor is awarded by Government Finance Officers Association of the United States and Canada.